Erika Gasztonyi: Featured Interview (04/12)
12th April 2020 - Erika Gasztonyi speaking to Bohemian Island · 🕒 7 minute read
California-based athlete Erika Gasztonyi is a strength, mobility & handstand powerhouse. A yoga teacher and fitness trainer by 22 years old, Erika mixed natural ability and raw talent with immense hard-work and dedication to get where she is today. Below she opens up about her journey, habits and personal struggles in an exclusive interview with Bohemian Island.
Erika will host a live Handstand Class on our Instagram Live at 9am US Western time (12pm Eastern) on Monday April 13. Completely FREE and great for beginners or hand-balancers of any ability.

BI

:

You make handstands look easy. What made you fall in love with them and when?
Erika: "I've been practicing handstands for about 5 years now.
My journey first started out with yoga though. I started practicing yoga when I was around 20-21 & became a yoga teacher at 22. Practicing & teaching yoga was my primary focus & main jam for years and that's how I first got introduced to hand balancing.
I worked as a fitness trainer and did general fitness training for myself, but yoga was my real passion. At the beginning I never really thought handstands were meant for me or my body and was more interested in back bends and the basic arm balances.
- Then, as Instagram started to become popular, I was introduced to more strong yogis who were very skilled hand balancers. I started to become inspired. -

Gradually my focus shifted towards handstands and I then quickly became obsessed & developed a huge passion for them! It was from here that I also started to get into gymnastics style strength calisthenics training.
Handstands are so much more than a movement/skill for me. They are an art and form of self-expression, and the journey of training them has taught me more than I can say."
BI

: What advice would you give to somebody at the beginning of their hand stand/fitness adventure?
Erika: "Become obsessed with the process, not the end goal. Find ways to make it fun and enjoyable, make it about your own self betterment, not destruction, and keep your self in check with it.
I'm not saying that every second has to be the most fun thing in the world.
- Remember it's all about the JOURNEY to get there, physically, as well as mentally. Handstands and major fitness goals are very hard and time consuming. If you don't love the process, you'll become frustrated and have a hard time staying motivated to sick with it. -

Yes, there will be hard work and set backs and you'll put in blood, sweat and tears, but learn to embrace it and love it at the end of the day. Nerd out on whatever your goal is, learn as much as you can, and become fascinated by every part of the process.
It's the journey that makes the skill, strength or aesthetic body so satisfying. You had to EARN it.
- Sure handstands, other skills, strength or a good looking body are cool and appealing, but at the end of the day who cares? It's what you learned and what you went through along the way that brings meaning and significance to it. -

If I could have a genie grant me any physical skill or strength in a day with no work, I wouldn't take it. Without the journey, there's no passion or value."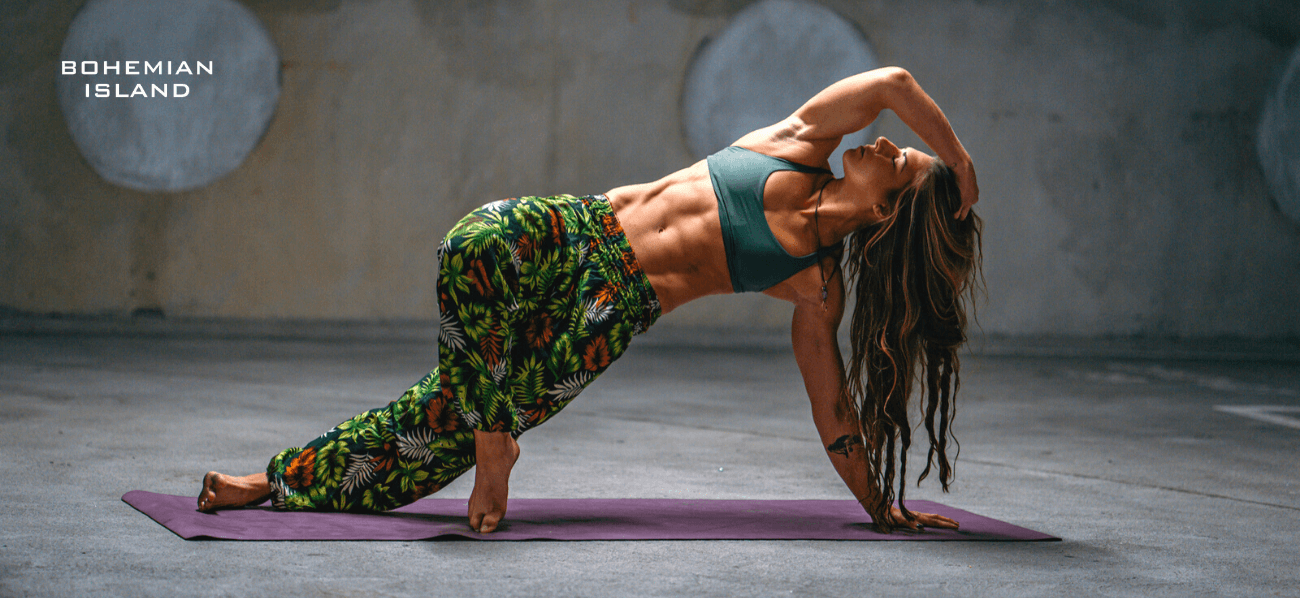 BI

:

Is it important to set goals along your fitness journey?
Erika: "Yes but guess what? You'll never get to the end! When you do get to that initial "goal" either you'll stop practicing and lose what you achieved, or by the time you're actually at that 'end zone', you'll have expanded your movement world and potential, and have a new goal by then!
I always say reaching a handstand is just the gateway drug. There's always more, and you will ALWAYS be a beginner of something."

BI:

From the outside looking in you appear the perfect physical specimen! But do you have any hidden weaknesses?

Erika: "SO many! Ahh where do I begin?
There are plenty of mental and personality weakness that I could get into such as lack of organizational and time-management skills, anxiety, roller coaster of body image issues, and so much more, but I'll stick with the physical handstands/movement specific theme!
- I am not actually naturally gifted with strength, body awareness, or physical skill. Many people see what I do automatically assume that I have a natural tendency for movement. I don't. -
However, before training, I was quite awkward and found movement challenging. My body type also does not build or maintain strength very easily. None of what I do physically came naturally or intuitively to me.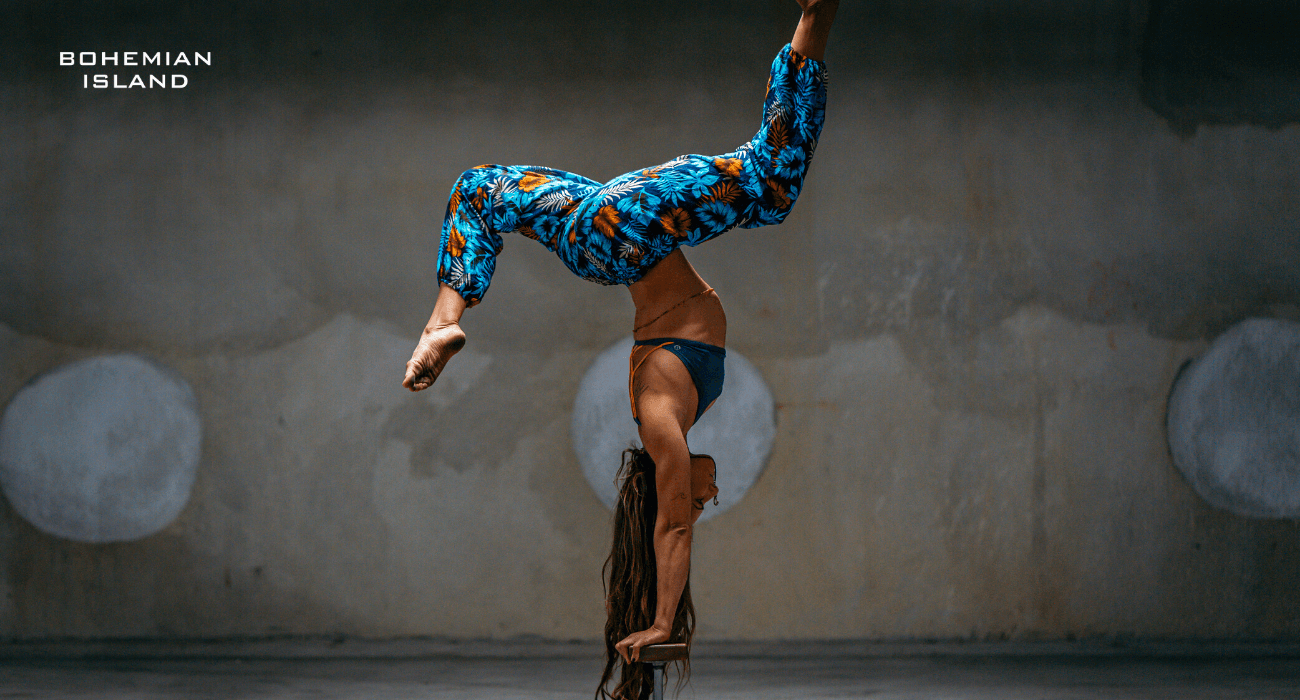 Except for hip mobility! Yes I have worked on it a lot, but I have to admit, that hip mobility is one thing that came rather naturally and easily for me.
When it comes to movement and strength though, I'm not naturally talented. I'm skilled. I know what it feels like to have a natural talent for something and for it to come with relative ease, and that's definitely not what I feel with movement.
I've had to work very hard to attain the skills and strength that I have, and to find methods to train my body to develop and understand movement concepts."
BI

: Who does Erika Gasztonyi look up to? Who inspires you?
Erika: "Some of my biggest inspirations are close friends, teachers, and peers of mine. Just to name a few of my closest friends that inspire me: Courtenay Turner, Angela Kukaman, Joelle Hanania, Susie Frank, Blair Aeud, Olivia Vivian, and Vishal Kumar.
There are so many more though that I can name, but the list can go on for ages! I have had the gift of being friends with, meeting and training with some incredible athletes, practitioners and coaches! A few teachers who I've worked with that inspire me are Dylan Werner, Bret Contreras, Andre Bondarenko and Miguel Santana."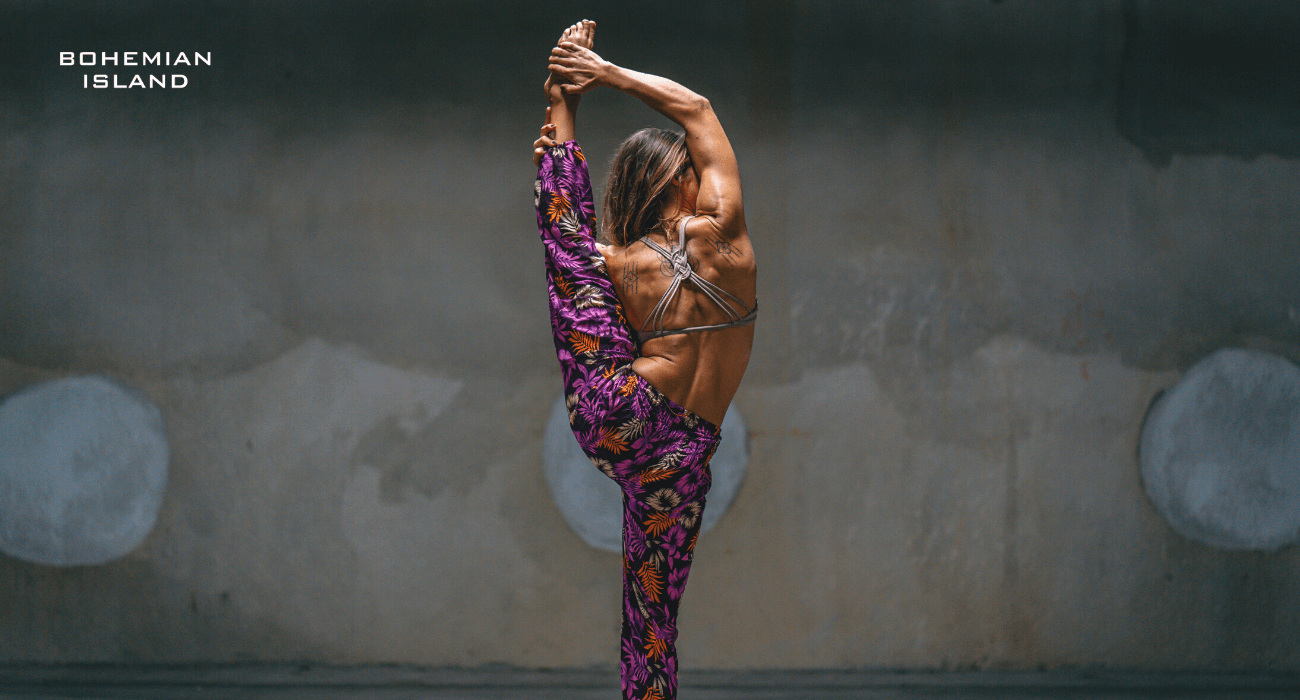 BI

: Away from strength & mobility what do you love most in the world? Favorite foods, tv shows, musicians, brands?

Erika: "CATS! I have a huge love and passion for all animals, especially cats. I cant imagine living life without cats.
My favorite food is chocolate. Favorite TV show is "The Office". My favorite type of music is reggae, and a few of my top favorite artists are: Slightly Stoopid, Stick Figure, Pepper, Common Kings, and JBoog.
My favorite brands are Bohemian Island (obviously! I'm wearing the Black peacock harem pants right now, and almost everyday!), LuluLemon, and Vivo Barefoot shoes."

BI

: How important is diet in your life and what kinds of foods do you regularly consume?
Erika: My diet is probably best described as a hybrid of paleo and keto. It consists of a high amount of healthy proteins, fats and veggies... and A LOT of it! My foods are heavy on protein, I eat probably close to 130-140 grams a day.
I have no sugar, dairy, gluten and avoid most processed foods. For protein I eat primarily fish and pasture raised eggs (usually from the local farmers market, or another high quality, ethically raised kind available), but also grass-fed red meat a couple times a week and occasionally poultry. Again though, only from sources that I know are high quality and that use ethical and humane practices.
- I strictly have ZERO SUGAR in my diet. Cutting sugar out changed my life, and I feel so good for it! -
I could write a whole post just on removing sugar from my diet alone, but save that for another time. I do get small amounts of sugar from the veggies and nuts that I eat, but I rarely eat fruit except maybe a small bite once in a blue moon if the occasion calls for it.
I avoid most artificial sweeteners, and in fact I'm actually allergic to most of them. They give me horrible migraines within minutes of consumption. I do use stevia and pure monk fruit as alternative sweeteners.
My fats primarily come through healthy animal fats, nuts, and I use avocado and coconut oils too. Nut butter and 100% cacao chocolate is my vice! I can go to town on a jar of nut butter!
I also make sure to keep my fresh vegetable intake high! Kale and spinach are a daily staple for me, but I also try to incorporate a variety of veggies in. Just a couple of my favorites are asparagus, broccolini, Brussels sprouts, cauliflower, and celery. I don't consume any dairy, except for the occasional high quality grass-fed butter.
Additionally, bone broth is a staple in my diet for many reasons, and I make it from bones from the local farmers market. For the most part, I do not have any grains in my diet, and am pretty low carb. Occasionally, I'll carb-cycle when my body tells me that I need to add some more carbohydrates in. In that case I'll have some foods with rice flour and other starchy paleo carbs.
BI

: What about alcohol? Any guilty pleasures?
Erika: I do not consume alcohol frequently or regularly, but I also do not avoid it altogether. I really enjoy red wine! If there's a special occasion like a wedding, birthday, vacation, holiday, etc and I'm in the mood, I'll have a little, but I always avoid sugary cocktails.
- I don't count calories or macros or completely deprive myself of delicious foods. -
I genuinely love healthy, fresh, living foods and enjoy what I choose to eat and not eat. I listen to my body, and make adjustments as needed. I don't see the things that I choose not to eat as deprivation or sacrifice. I love desserts and splurge when I want to, which is often on sugar-free chocolate and nut based treats.
-------
A huge thank to Erika for taking the time to answer our questions! Be sure to join her LIVE on Bohemian Island's Instagram page @bohemian_island on Monday April 13 at 9am PDT | 12pm EDT | 5pm CET for a FREE Handstand class!
Follow Erika on Instagram at @erika.gasztonyi